Video Notes:
Q: How do we know the herbs we are giving our kids are safe?
A: We only purchase from companies who test for bacteria, pesticides and metals, molds fungus, etc. We also do a visual ID and make sure they are good quality and we purchase organic when available.
Q: How can parents be sure they are purchasing good quality herbs?
A: Make sure you purchase herbs with a  cGMP (current good manufacturing practices) certified rating.
Q: What about herbs and nursing?
A:...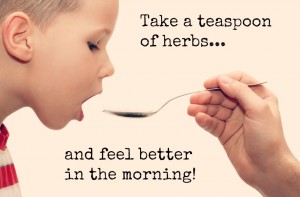 You want to know what my secret is in getting kids to take herbs?  It's really quite simple.   I under-promise and over-deliver, by being clear about what kids can expect when they take Chinese Herbal Formulas. The reality is most kids are used to sweet syrupy tasting medicines, so taking Chinese herbs can be quite shocking if they're not properly prepared.  They may seem strong, bitter and unpleasant at first.  There are a few children that LOVE their herbs right off the...