5 Ways to Heal Nature Deficit Disorder in Children By Sean Guinan, L.Ac., MTCM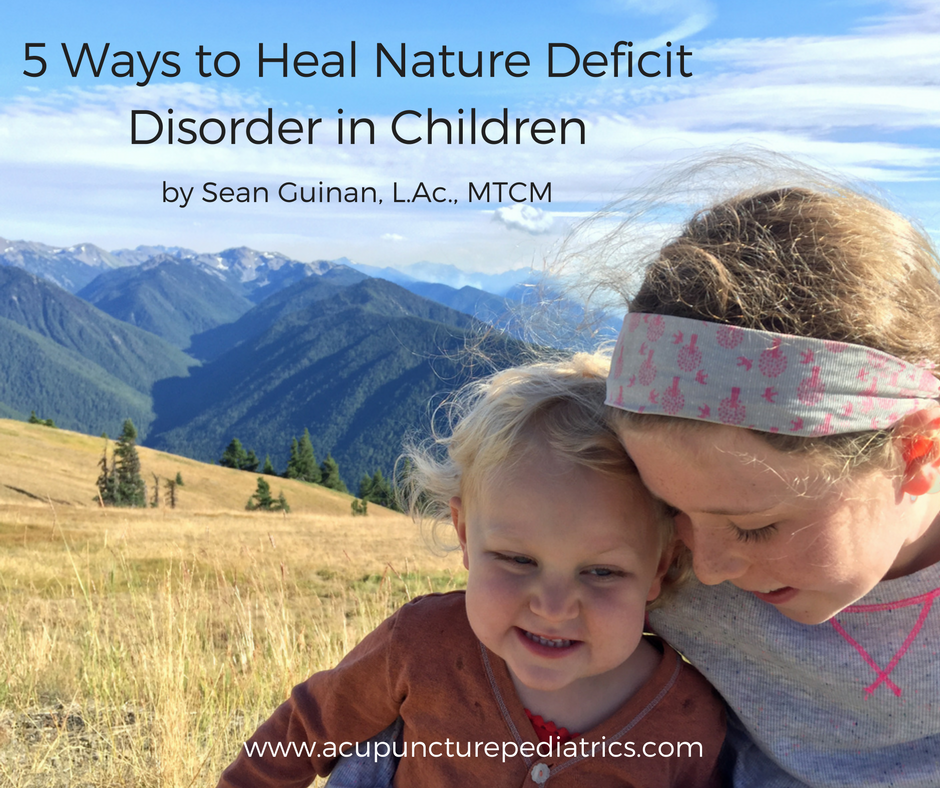 By Sean Guinan, L.Ac., MTCM Pediatric Acupuncturist | Educator | Speaker
Children thrive when they're in contact with nature. Their bodies become stronger, their minds calmer, and their spirits brighter.
Unfortunately for modern children, outdoor unstructured free play is becoming a thing of the past. Today, children spend 90% of their time indoors. Worse yet, the average American child spends over 50 hours every week using some electronic device. In times past children used to spend much of their childhood in nature. Outdoor living was the status quo. Kids would climb trees, build forts, and frolic in fields for countless hours. This dramatic shift to an indoor childhood has coincided with a surge in chronic childhood illnesses.  Richard Louv first described this phenomenon as Nature Deficit Disorder (NDD) in his seminal book, Last Child in the Woods.  Since then numerous research studies have detailed the ill effects of the absence of nature on children's health and well-being. For parents, healthcare providers, and educators it is super helpful to understand the role that nature can play in healing our children. Below are my top five ways to heal Nature Deficit Disorder in kids:
Romp, Run, and Play Outdoors
Feel free to get out of your kids way and not be a helicopter parent! Allowing children to explore the outdoor world without direction or cues from adults boosts kids' creativity, imagination, and problem solving skills. The outdoor environment offers ample space for unstructured, free play and "green exercise" too, which can help reduce childhood obesity.
Get Cozy with Farm Animals
Spending quality time with sheep, goats, and chickens can do your kids well. Recent research suggests that regular contact with farm animals (& dogs) can actually reduce a child's risk of developing asthma and eczema. Interestingly, the benefits of human-animal connection are most potent for balancing immune health when that interaction occurs during pregnancy and the first year of a child's life.
Soak in Sunshine & Eat Rainbows
Nature is a powerhouse of essential vitamins and minerals. Routine exposure to sunlight helps our bodies produce vitamin D, a known anti-inflammatory that regulates immune cells and reduces allergies. Eating a full spectrum of organic, local, and seasonal vegetables and fruits feeds a child's microbiome and ensures their robust growth & development.
Take a Forest Bath
Getting kids away from screens and into the woods can calm their minds. Attention and sensory disorders are running rampant through schools. Nature gives children a chance to move from directed attention in the classroom to involuntary attention amongst the trees. This flips a neurobehavioral switch in children, opens up a whole new world of sensory exploration, and allows their brains to rest and recoup. Japanese researchers call this therapeutic effect Shinrin-yoku, or forest-bathing, and they've been studying its impact on human health since the 1980's.
Let Your Kids Eat Dirt
Children are struggling with anxiety, depression, and mood disorders at earlier ages than ever before. We now know that emotions are tightly tied to the gut-brain axis. What happens in the gut is perceived by the brain! When kids are "too clean", their gut microbes dramatically change, as does their mood. Researchers have now found a Mycobacterium species in dirt that helps people manufacture serotonin – the "feel good" neurotransmitter. So getting your kids in the garden and making mud pies might actually boost your child's mood. Reconnecting children with the natural world and healing Nature Deficit Disorder is a central part to helping children heal from the outside in. So open the door and let your little ones play!    
About Sean Guinan, L.Ac., MTCM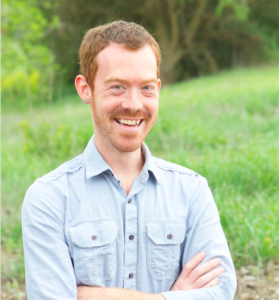 Sean Guinan, L.Ac., is an adult and pediatric acupuncturist with a medical degree in Traditional Chinese Medicine from the prestigious Five Branches University.  He has undertaken advanced clinical training in pediatric & reproductive medicine, and holds a certificate in Environmental Medicine from the University of Arizona Center for Integrative Medicine.
Sean is also the former Director of the Center for Advanced Acupuncture Pediatrics and excels in the areas of holistic pediatrics, reproductive health and environmental medicine. A former environmental biologist, he is founder of the Environmental Pediatrics Institute, an online educational hub for medical professionals & families exploring the impact of nature on children's health. Check him out on Facebook.     Sources: Bell, J. F., Wilson, J. S., & Liu, G. C. (2008). Neighborhood greenness and 2-year changes in body mass index of children and youth. American journal of preventive medicine, 35(6), 547-553. Berto, R., Pasini, M., & Barbiero, G. (2015). How does Psychological Restoration Work in Children? An Exploratory Study. Journal of Child and Adolescent Behavior, 2015. Hofferth, S. L. (2009). Changes in American children's time–1997 to 2003. Electronic international journal of time use research, 6(1), 26. Louv, R. (2008). Last child in the woods: Saving our children from nature-deficit disorder. Algonquin Books. Matthews, D. M., & Jenks, S. M. (2013). Ingestion of Mycobacterium vaccae decreases anxiety-related behavior and improves learning in mice. Behavioural processes, 96, 27-35. Nedovic, S., & Morrissey, A. M. (2013). Calm active and focused: Children's responses to an organic outdoor learning environment. Learning environments research, 16(2), 281-295. Pelucchi, C., Galeone, C., Bach, J. F., La Vecchia, C., & Chatenoud, L. (2013). Pet exposure and risk of atopic dermatitis at the pediatric age: a meta-analysis of birth cohort studies. Journal of Allergy and Clinical Immunology, 132(3), 616-622. Rideout, V. J., Foehr, U. G., & Roberts, D. F. (2010). Generation M [superscript 2]: Media in the Lives of 8-to 18-Year-Olds. Henry J. Kaiser Family Foundation. Sharief, S., Jariwala, S., Kumar, J., Muntner, P., & Melamed, M. L. (2011). Vitamin D levels and food and environmental allergies in the United States: results from the National Health and Nutrition Examination Survey 2005-2006. Journal of Allergy and Clinical Immunology, 127(5), 1195-1202. Save Save