Part 2 Chinese Medicine Pediatrics: 5 Types of Children by Harriet Beinfield, L.Ac. and Efrem Korngold, L.Ac., OMD
The Key Role of the Five Ke Triangles in Clinical Practice 
If you didn't catch Part 1 of Chinese Medicine Pediatrics:  5 Types of Children, check it out HERE

Triangles are the most stable form in nature. And the triangular Ke relationship between three Organ Networks is fundamental to the stability and resilience of the human body.
There are three realms (Heaven, Human, Earth), three treasures (Shen, Qi, Jing) and three burners (Upper, Middle, Lower). There are also three levels: addressing disharmonies (Bing) of the body (Xing), cultivating an individual's nature (Li) and nourishing destiny (Ming). These three levels form a pyramid, a triangle of their own.  Interventions that impact children by supporting their nature may also nourish a particular child's destiny.
Five Types, Five Triangles, Five Clinical Insights
Five triangles correspond to each of the five types. The five triangles describe the underlying pattern, the context out of which disharmonies and conflict materialize. Harmonizing key interactions between three Organ Networks affects a triangle of relationships that correspond to each pattern and type. These triangles affect our clinical insight and inform our intervention.
Wood-Metal-Earth Triangle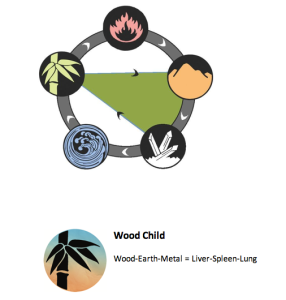 Wood Child Characteristics:
Likes pressure, speed and adventure

Seeks novelty

Challenging and intense

Competitive

Supple, muscular physique

Subject to invasion from Wind

Invasion enters at head, neck, upper back
Fire-Metal-Water Triangle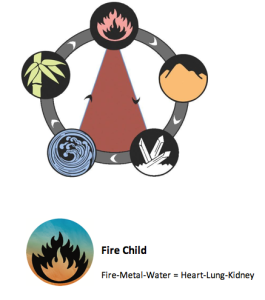 Fire Child Characteristics:
Seeks contact and intimacy

Enjoys excitement and sensuality

Passionate and sensitive

Empathetic

Evenly proportioned, willowy physique

Subject to invasion from Heat

Invasion enters at head, upper back, nose, mouth, throat
Earth-Water-Wood Triangle

Earth Child Characteristics:
Seeks comfort, contentment

Likes to be sociable, in charge, but not the center of attention

Agreeable

Sympathetic

Round, fleshy physique

Subject to invasion from Damp

Invasion enters at head, joints, lower back, abdomen
Metal-Wood-Fire Triangle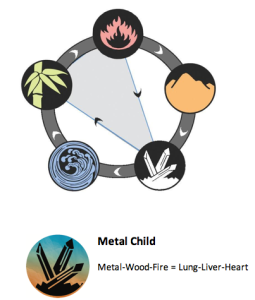 Metal Child Characteristics:
Delicate and upright

Enjoys ritual and ceremony

Discerning and methodical

Perfectionistic and refined

Erect, trim, symmetrical physique

Subject to invasion from Dryness

Invasion enters at head, skin, mouth, throat, nose
Water-Fire-Earth Triangle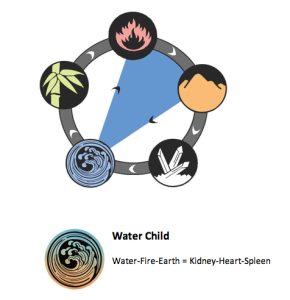 Water Child Characteristics:
Self-contained and self-sufficient

Seeks knowledge

Prefers anonymity

Watchful

Strong, dense, lean physique

Subject to invasion from Cold

Invasion enters at head, upper back, hips, legs
If you didn't catch Part 1 of Chinese Medicine Pediatrics:  5 Types of Children, check it out HERE

About Harriet Beinfield, L.Ac. and Efrem Korngold, OMD, Dipl Ac (NCCAOM), RH (AHG), LAc
Efrem Korngold is a pioneer in the education and practice of Chinese medicine in the West. He studied Chinese herbal medicine in Kunming, China in 1980, acupuncture in Shanghai in 1984, and subsequently continued his training with Asian herbalists in the U.S. Applying his 40 years of scholarship and clinical experience, Korngold has developed unique practice models that blend ancient and modern knowledge. A Diplomate of the National Certification Commission of Acupuncture and Oriental Medicine (NCCAOM), he is also a charter member of the American Association of Acupuncture and Oriental Medicine (AAAOM) and a founding and Advisory Board member of the Holistic Pediatric Association. He has lectured nationally and internationally at sites such as the UCSF School of Medicine, University of Arizona, Beth Israel Hospital in New York, and the American College of Traditional Chinese Medicine in San Francisco. Efrem and Harriet Beinfield, LAc are founders of Chinese Medicine Works, an acupuncture clinic and herbal pharmacy in San Francisco. Efrem and Harriet are formulators of an innovative repertoire of 68 Chinese herbal formulas manufactured and distributed by Kan Herb Company www.KanHerb.com. They also authored Between Heaven and Earth a seminal work on Chinese traditional medicine.  For more information visit their website: www.chinesemedicineworks.com