A Review of 2015 and Our Most Popular Blog Posts
At the end of each year I like to reflect upon and give thanks for all that happened, evaluate what went well and what didn't, and release any expectations, disappointments, and things that didn't come. In this way I can start the next year with a clean slate. As part of this process, I wanted to share a few of the highlights of 2015 with you along with our most popular blog posts.
Let's Start with the Word of the Year
I love summing up a year with one word and for 2015 that word is "productive." Looking back at all the writing I did and courses I created it's hard to believe that only one year has passed!  We now have a course catalog full of pediatric courses to help you build your skills no matter where you're at on your pediatrics journey!
6 New Courses Released in 2015!
Throughout 2015 I released 6 new courses: 
Pediatric Acupuncture Basics
Pediatric Tuina Basics
Five Element Typing Made Easy
Increase Your Word of Mouth Referrals & Treat More Kids
East West Pediatric Medicine (live training)
Pediatric Functional Medicine (distance Learning)
You can check them out here in our completely reorganized course catalog.
The PAC is Over 500 Strong on Facebook
We now have over 500 acupuncturists in the Pediatric Acupuncture Community (PAC) on Facebook and thousands more who follow the blog. And I'm so grateful for the wonderful, supportive, and helpful community that has been created. During 2015 we had numerous PAC meetings on topics ranging from goal planning and marketing to food sensitivities and pediatric functional medicine integration. Be sure to join the PAC to stay up to date on the latest meetings.
Our January PAC Meeting
Save the date: Our next meeting will be on January 6, 2016, at 6 pm Pacific/9 pm Eastern. The topic is Build Awareness and Have Your Breakout Year in Pediatrics!
My Single Biggest Accomplishment of 2015!
You guessed it! It was writing my book, Heal Your Child from the Inside Out: The 5-Element Way to Nurturing Healthy, Happy Kids. It is expected to be in bookstores Fall 2016! Coming in 2016, I'm rebranding www.kidsloveacupuncture.com to be more inclusive and will be adding more classes for parents, guides, resources, and information that will help heal their children with Chinese medicine.
Thank YOU!
Most importantly, I couldn't do it without you and your support! So, thank you for everything you do for the parents and kids in your area and for being a part of this amazing community.
I look forward to seeing what we can create together in 2016.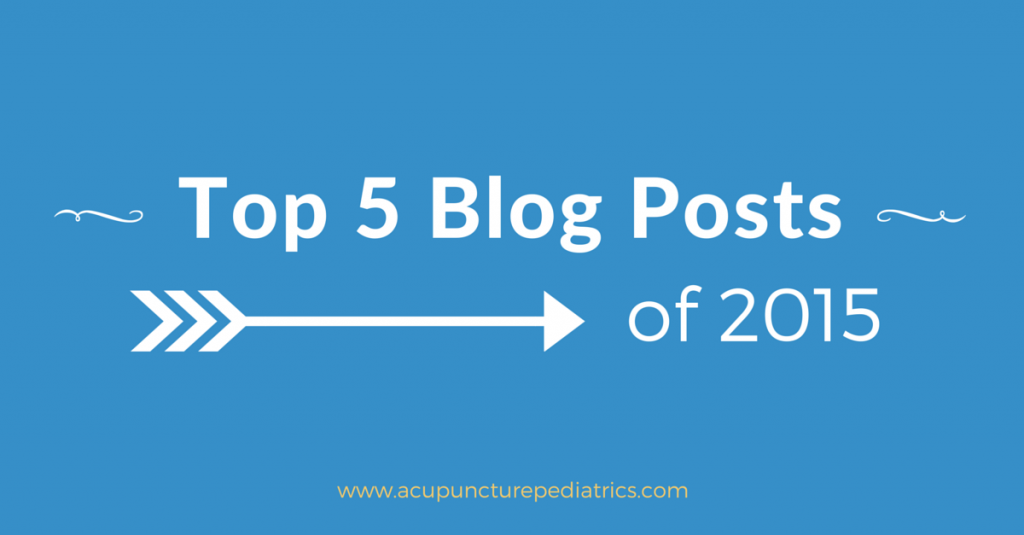 And just in case you missed them, here are the top 5 blog posts of 2015! These were our most popular posts with the most visits, social shares, and comments in 2015.
Is it just coincidence that our kids are getting less sleep and ADD/ADHD is being diagnosed more and more often? This article does a great job of highlighting the parallels between sleep deprivation and the symptoms of ADD and ADHD.
How can we help heal the spleen and support gut health? In this webinar I discussed modern functional medicine perspectives on the gut and how the gut relates to TCM. I also discuss gut flora and what's creating rampant gut imbalances and spleen deficiency in kids.
Helpful, factual information about the recent Measles outbreak and how it relates to the public's health. Get straight information and consider the options you can give to parents.  
Lingering pathogenic factors (LPFs) are the cause of some of the most common pediatric conditions we treat in the clinic. This insightful interview with Soma Glick, OMD, will definitely give you some pearls of wisdom to implement in your practice.  
Pediatric Gua Sha, or Scraping Massage, is one of my favorite techniques to use on kids ages 4 and up.  It's great for treating allergies, coughs, colds, and fever and most kids respond really quickly when I use it in addition to a regular treatment. In this article and video, learn tips on administering this healing massage and working it into your treatment plans.