5 Reasons Why Pediatrics is the New Fertility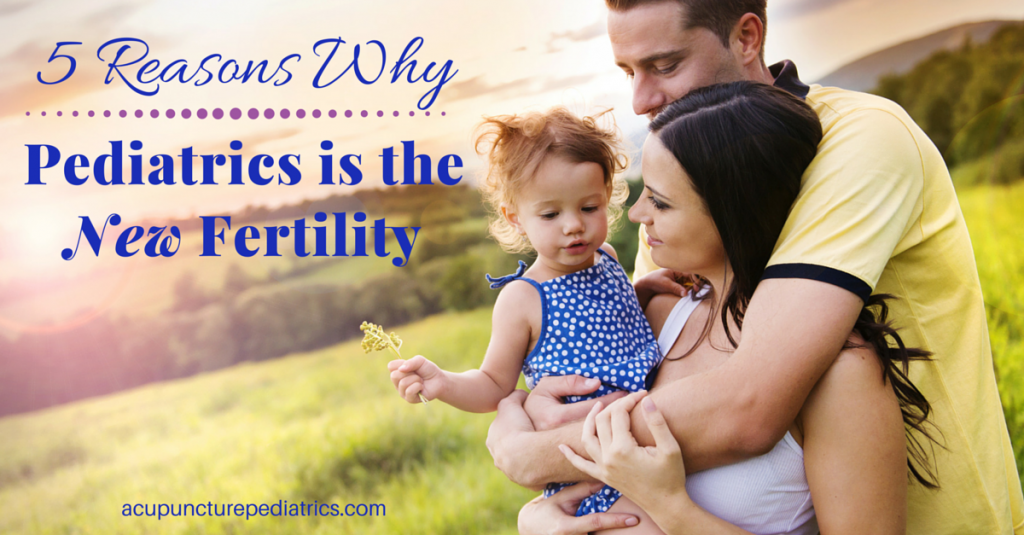 Two years ago I made a prediction that pediatrics was becoming the new fertility—meaning it's poised to go mainstream. Today I feel even stronger that is the case. Since I wrote Is Pediatrics the New Fertility?, a LOT has happened in this direction...
1. Kids are Still Sicker than Ever
First of all, not much has changed with regard to the increases in chronic childhood conditions such as ear infections, eczema, allergies, asthma, ADHD, autism, or obesity. Millions of children and their families are affected by these conditions and Western medicine offers little help beyond medication or medical procedures that often come with unwanted side effects!
2. More Parents are Looking for Alternative Treatments Like Acupuncture
The internet age has changed the landscape of medicine. With so much information on the web, parents are no longer settling for the old "He'll probably outgrow it" advice. They're leery about giving their child medications or doing medical procedures. More than ever before they're open to trying acupuncture, especially parents that have previously had success with it.
3. More Hospitals and Doctors Are Embracing Pediatric Acupuncture
Pediatric acupuncture is being offered at top hospitals all over the country including UCSF, Beth Israel, Duke, Seattle Children's Hospital, Rady Children's Hospital in San Diego, Primary Children's Hospital in Salt Lake City, Utah, and too many more to list here! Increasingly the hospitals are hiring acupuncturists to work with kids and assist in research. One of the acupuncturists in my advanced training program, Maureen Giese, was recently hired at St. Joseph's Hospital in Paterson, New Jersey!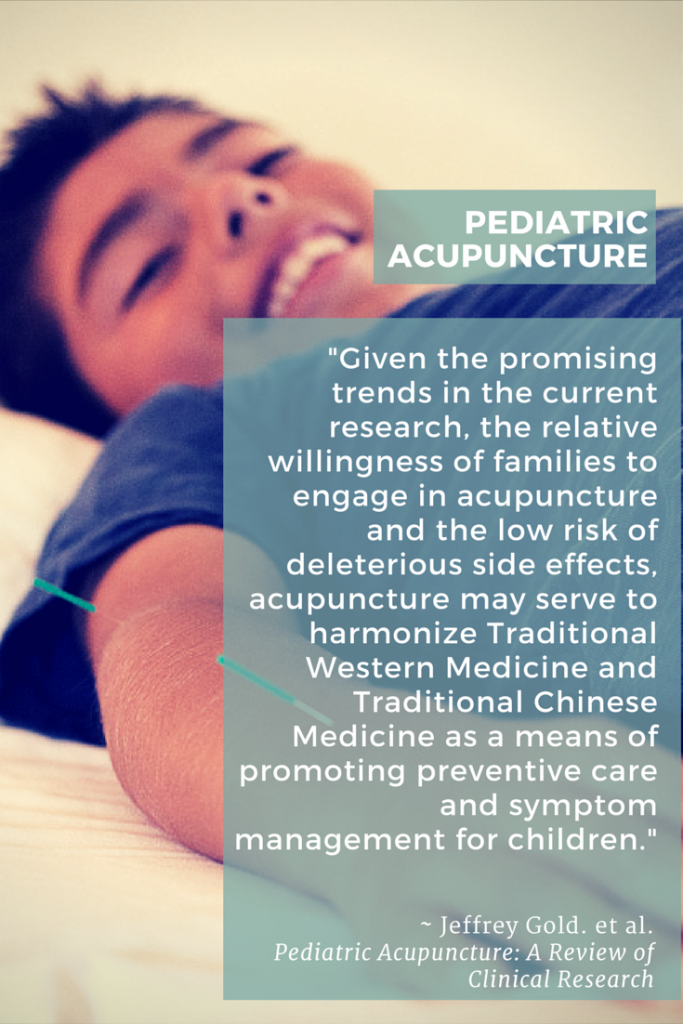 4. More Research is Being Conducted into Pediatric Acupuncture
More research is being conducted worldwide for conditions such as:
pain management
enuresis
allergic rhinitis
constipation
epilepsy
neurological conditions
post-op vomiting
procedural anxiety
cancer related conditions
Here's a link to a comprehensive analysis of pediatric acupuncture studies. Top hospitals and researchers are conducting more research to validate the effectiveness of acupuncture for kids!
5. More Pediatric Acupuncture Books and Articles Are Being Published by Major Publishers
The Medical Acupuncture Journal is printing a special edition on Pediatric Acupuncture that's coming out April 2016. HayHouse, a major book publisher, is publishing my book on TCM for kids. Of the hundreds of book proposals HayHouse reviewed, they believed that a book on Chinese medicine for kids would be a hit! They recognize that parents are looking for safe, effective solutions for kid's health and TCM has them!
But, there's ONE BIG problem! We need MORE acupuncturists treating kids!
Like acupuncture's boom in fertility, there is a confluence of events happening in pediatrics—research, medical acceptance, books being published, parents looking for us, etc. This is all fantastic news!  There's a growing demand. But there's one big problem. We don't have enough acupuncturists trained in pediatrics! We need more acupuncturists feeling confident to treat kids! I have parents reaching out to me ALL the time asking me for a referral in their area, but I can't always give them one because we don't have enough pediatric or family specialists. There just aren't enough us yet.
Now's the Time to Build Your Confidence Treating Kids
If you're feeling like you want to treat kids but you're lacking confidence, you're not sure of the red flags, or how to work with parents you're not alone. Most of us have these concerns when we're first starting out in pediatrics. All you need is training that not only teaches treatment protocols but the practical aspects of needling kids and working with parents!  
Unlike other courses that focus on treatment and herbs, this course actually helps you with the nuances of successful treatment: from how to approach a child with needles to how to talk to parents and get them on board with treatment.  Plus you also get all the training needed to feel confident with your treatment protocols and herbal recommendations. 
Nearly ALL of the acupuncturists that have taken Pediatric Essentials reported that they felt more confident after taking this course!  They also said they enjoyed the practical, concise, and holistic nature of the video presentations. So if you're ready to get your pediatric training, NOW is the time.