Tips and Recipes for Feeding Children with Special Needs by Patricia Soza, L.Ac.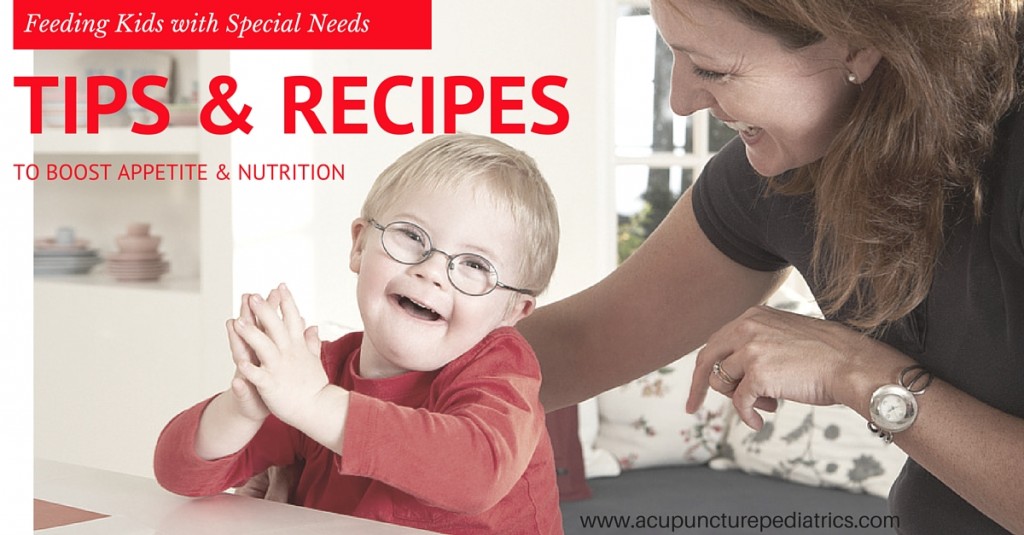 As a working mom of a 3 year-old daughter with a rare genetic condition, I know it can be overwhelming at times when your child has multiple challenges.  Some of the challenges we have faced with our daughter are:
delayed speech
delayed motor skills
sensory disorder
low immune system
behavioral issues
digestive challenges
That is why I have become so passionate to share what has helped our amazing daughter with other parents who have special needs kids.
One of the most basic ways we can help our kids achieve their full potential is through nutrition.
As an acupuncturist and nutritionist, I am determined to give our daughter the most nutritious food.  But the reality is children with special needs often have conditions such as hyptonia (low muscle tone) and sensory disorders, making feeding our kids challenging.  I want to share what has been helpful in having our daughter eat more nutritious food.
Work-arounds for Chewing and Swallowing Issues
Hypotonic children may have weak jaw muscles, which can make chewing and swallowing more challenging, sometimes causing them to choke or gag easier.  Our daughter still tends to stuff her mouth really full, then tries to swallow.  That is why we give her small portions or small bites at a time to allow ample time to chew and swallow. Softer foods are often preferred with hypotonia as there is less chewing involved.  Some of our daughter's favorite soft foods include:
baked sweet potatoes
hard boiled egg with salt
hummus
roasted veggies
soft fruits
plain fermented yogurt with stevia and cinnamon
avocado with sea salt
Sensitivity to Texture, Taste, or Smell of Food
Sensory disorders can cause children to be more sensitive to texture, taste, or smells in food.  Some kids with sensory disorders may be more likely to eat with stronger tastes.  Strong tastes may also help to stimulate a child's taste buds. Nancy Peske, the Author of Raising a Sensory Smart Child, recommends giving strong tasting food before introducing new ones. One way I have gotten our daughter to eat more variety and more veggies is using yummy sauces!  Some of our daughter's favorite sauces include cashew cheese sauce and almond sauce (see below for recipes). I have also included a grass-fed gelatin (we use Great Lakes brand) recipe that is a family favorite.  Gelatin is healing on the digestive tract, making it stronger in the long run.  Our daughter will drink spoonfuls while I'm warming up the gelatin in the pan!
Stimulating Appetite with Peppermint Essential Oil
I love using essential oils, especially peppermint.  Inhaling peppermint essential oil has been shown to stimulate appetite in some studies. Also, using 2 drops of peppermint essential oil diluted in 1 Tbsp. of coconut oil topically on the abdomen is great for digestion.
Get the Kids Involved with Food
Involving children in growing food or buying food and making food helps too.  Our daughter loves being in our veggie garden with me and I let her feel, smell, and taste the different veggies and herbs.  She also loves cooking with me and tasting things as I cook!
Easy Recipes for Special Eaters
Over the years I have had to be creative and continually change what food I make and how to involve our daughter in the process.  But with some creativity we can enjoy a variety of food together as a family.  I hope this blog inspires you to try new recipes, be creative, and gives you some information that just might make feeding your sweet pea a little easier! Cashew Cheese Recipe: 1 cup raw cashews 1/3 cup nutritional yeast 1 tsp. sea salt 1 tsp. garlic powder or 3 cloves fresh garlic, minced 1/3 cup water Place all ingredients in a blender and blend until smooth.  Add more water if it's too thick.  It should be the consistency of a thin paste.  Pour over a salad or veggies or use as a dip!   Almond Sauce Recipe: 1 cup almond butter 1/3 cup unsweetened almond milk 4-6 drops stevia liquid extract Place all ingredients in a blender and blend until smooth.  Add more milk if it's too thick.  You should be able to pour it easily out of the blender.   Pumpkin Pudding Recipe:  5 oz. (1 can) full-fat coconut milk 1/3 cup pureed canned pumpkin (or make your own!) 1 Tbsp. honey (preferably raw) or 1 dropperful stevia liquid extract 1 Tbsp. grass-fed gelatin 1 tsp. vanilla extract ½ tsp. cinnamon Add all ingredients except gelatin to a small pot and warm on low-medium heat for 6 minutes.  Add gelatin to pan and blend using an immersion blender or regular blender.  Add mixture back to a pot and heat until gelatin is dissolved.  Place in a glass container and let cool in fridge for at least 1 hour.
About Patricia Soza, MTCM, L.Ac.
Patricia Soza is a licensed acupuncturist, certified holistic health practitioner and certified nutrition consultant. She graduated with a master's degree from the prestigious Five Branches University and has studied with distinguished acupuncturists such as Jeffrey Yuen, Raven Lang, Debra Betts, Master Tang, Richard Tan, Robin Green, and Jake Fratkin. Patricia has had the joy of practicing Chinese Medicine and Holistic Health for over 11 years in the Santa Cruz community. She had the delight of being part owner of a community acupuncture clinic for 2 years where she treated a variety of conditions. While Patricia has treated a variety of conditions over the years, her personal experience of being a mom to a precious little girl with a rare genetic condition has also driven her passion in treating children to ensure they reach their full potential and their optimal health. She maintains a pediatric blog called nourishedpoint.blogspot.org with insightful health and nutrition information. Her hobbies include going on bike rides with her family, inspirational and educational books, researching, salsa dancing with her daughter, zumba, writing for her pediatric blog, cooking healthy meals and gardening with her daughter in their veggie/herb garden. And once in a while having a treat at the Penny Ice Creamery!  
References
Biel, Lindsey M.A and Peske, Nancy (2005). Raising a Sensory Smart Child Penguin Books ORL:EnglandReferences McGracken, Sylvia (2014) Super Easy Pumpkin Pudding Recipe Taken from http://www.hollywoodhomestead.com/pumpkin-pudding/