Lingering Pathogenic Factors: An Interview with Soma Glick OMD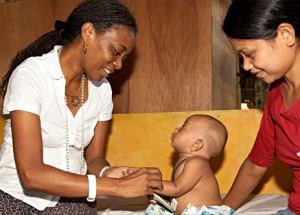 Lingering pathogenic factors (LPFs) are the cause of some of the most common pediatric conditions we treat in the clinic.  
LPFs occur due to vaccines, antibiotics or illnesses that don't resolve completely. When pathogens linger in the body it depletes the child's Qi and makes them predisposed to frequent illness or recurrent infection.
In a worst-case scenario, an untreated LPF can remain in the body causing havoc throughout a person's life. That's why it's so important to diagnose and treat LPFs early to help the body recover completely and restore balance and health.
Helping Patients Recover from LPFs
Recently I interviewed pediatric acupuncture specialist, Soma Glick, L.Ac., OMD, about LPFs. She shares her knowledge on how to identify and eliminate LPFs to support health and healing in children. We discuss acupuncture points as well as recommended herbal formulas to eliminate LPFs for good.
Listen to the Replay Here:
About Soma Glick, L.Ac, OMD
Soma Glick has been certified both in Acupuncture and Chinese Herbs by the National Certification Commission of Acupuncture and Oriental Medicine, USA and received the title of "Doctor of Oriental Medicine" from the state of New Mexico in 1993. In the following years, she completed medical internships in Beijing, China and Ho Chi Minh City, Vietnam. She is also licensed in Acupuncture and Chinese Herbs in the state of Colorado since 1998 and received a Certification in Classical Homeopathy from the Homeopathy School of Colorado in 2005. She has been teaching since 1998 at various acupuncture skills and international clinics including the Southwest Acupuncture College in Boulder, CO, weekend seminars on Acupuncture internationally, and has done intensive training courses for acupuncturists on children and women's health in Bali, in Myanmar, and also with the Tibetan community in India, all of which included free clinics for the local population. If you're interested in learning more about Soma visit www.somadevi.com for more information