Pediatric Tuina Massage Basics - Video Course and Guide

Learn Basic Tuina Manipulations with the Training Video & Guide
Tuina is easy to learn, no special tools are required and it's simple to teach parents.  That's why it's our favorite method for easily stimulating acupuncture points on babies and children. With our 30 minute video and a little bit of practice, you can quickly to add tuina massage to your toolbox and share it with parents so they can use this powerful massage at home, too!
What's Included in Pediatric Tuina Massage Basics:
30 Minute Instructional Video - This video covers basic tuina manipulations, wellness massage protocol, calming massage, pressing massage and lymphatic drainage massage on the neck. Tuina Massage for Cough Video - This video teaches you the tuina massage protocol for any kind of cough Gua Sha Video - This video teaches you how to do gua sha, or scraping massage, on children for upper respiratory problems.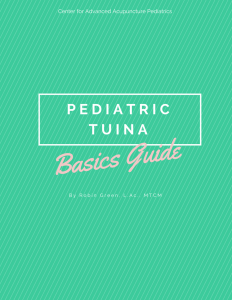 Pediatric Tuina Basics Guide - This photo illustrated guide covers guidelines for tuina massage, basic tuina manipulations, and include protocols for:
Asthma
Boosting immunity
Cough
Constipation
Diarrhea
Ear infections
Fever
Healing the Spleen
Sleep problems
What does the course cost?
The fee is $38 for lifetime access to the videos and guide.