Red Flags & When to Refer for Pediatric Acupuncturists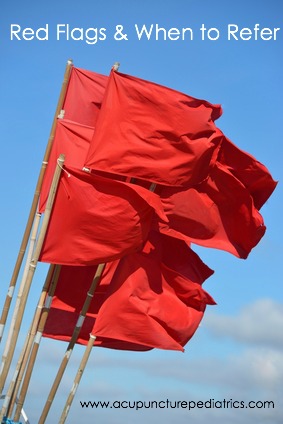 One thing I love about acupuncturists is that they're totally committed to their patient's safety. Fear of missing a red flag during a pediatric treatment is a top concern for us.  We want to make sure that we don't miss something important, fail to refer when needed, or be liable for treating a child who should have been getting Western medical care.
When it comes to red flags my catch phrase is, "When in doubt refer out." 
There's no harm in having a child checked out by their pediatrician if something doesn't seem right to you. Personally, I'd rather err on the side of caution and refer out than fail to refer, where the child takes a turn for the worse and ends up at the ER regardless. At the same time, we're walking a fine line. We want to encourage our patients to trust that their child's body can heal on its own. We want them to try natural remedies first and give their child's body enough time to heal.  But if the illness worsens or doesn't resolve in a timely manner, then it's probably time to add Western medicine into the mix.
Questions of liability...to treat? or not to treat?
Recently in the Facebook group, there was a thread about what to do for a child with a high fever and febrile seizures. It was an urgent and serious case and you know what the first responses were by the acupuncturists in the group were? Go to the ER! This child needs to be monitored by a medical doctor.  They were exactly right.  The child did go to the ER and was sent home, but was still symptomatic. But then a very important question arose...
Should we still treat the child after they'd been sent home from the ER or would it be too big of a liability?
Personally I would still treat, but I always tell parents to seek immediate medical attention if symptoms worsen or something just doesn't seem right. I always tell parents the red flags to look for and when to head to the doctor or ER. Then I chart everything I said in the child's file.
Which brings me back to... (say it with me now)

 "When in doubt refer out." 
So if you're wondering if a child needs to go see a doctor, then they probably need to go! Trust your instincts! If you're not sure, step away from the treatment room and look up the red flags for your patient's condition. Then come back and tell the parents what the red flags are and when to seek medical care. Then chart, chart, chart.
What worries you about red flags and referring out?
Are there other situations you have questions about? I'd love to hear what your concerns are about red flags! I'm in the middle of creating a Red Flags Guide and I want to make sure I cover your concerns, leave your comments on the blog.