If You Can Answer these 3 Questions About Pediatrics You're Golden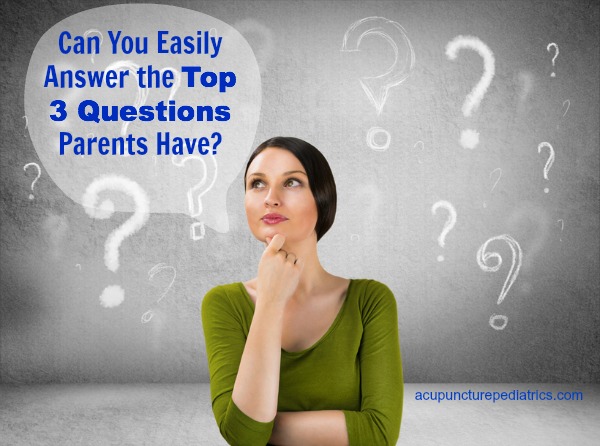 When it comes to seeing kids in my clinic, giving the treatment often feels like the easy part. Children's bodies are so full of Qi and yang energy they readily respond to treatment and quickly heal.  
The ear infection a baby has isn't due to stress, lack of exercise, or drinking too much coffee. According to the principles of TCM, the cause of the problem is straightforward, easily treatable, and often makes antibiotics unnecessary.  
Shouldn't it be a no-brainer?
Parents can sometimes be the biggest challenge.
Sometimes it can be difficult or even daunting to discuss pediatric acupuncture with parents because our medicine is still foreign or "woo woo." They don't understand how it works or if we can really treat kids with needles.
Parents usually bring in their child because Western medical treatments are masking the symptoms or just plain not working. While they're willing to give acupuncture a try they still have reservations and doubts as to whether it can really help. 
You may only have one chance to convince them to give acupuncture a fair chance.  
So, what are you going to say to this skeptical, worried parent?
All acupuncturists, no matter your specialty, have to educate their patients about what we do.  It's just the nature of acupuncture in this part of the world, but with pediatrics, we have extra obstacles to overcome. 
When you work with kids you'll hear the same questions over and over. Do you have a ready arsenal of answers to help convert that worried parent into one that's ready to give acupuncture a real chance to work?
Most parents start with the same 3 Questions.
If you can confidently, easily, and honestly answer these questions you are golden. Your answers will determine whether or not parents trust that you're the healer they've been looking for.  
Here are the top 3 questions most parents want to know when they first speak with you:
Can you/acupuncture help my kid's health problem?
How are you going to get my kid to lay still and be treated with needles?
How does acupuncture work?
Honestly, this is just the tip of the iceberg. Many parents will also want to know things like:
How much treatment will my child need?
How long will it take to get results?
How much will it cost?
How often do I need to bring my child to see you?
Can I do acupuncture along with medical treatments or medications?
The treatment was really short compared to mine. Is it still going to work?
Here's how to make answering these Questions a breeze.
Parents have a ton of questions and rightly so! Acupuncture is usually new to them and they're concerned for their child's safety. They need reassurance that you and acupuncture can help.
When I first started working with parents, sometimes I'd get tongue tied trying to answer these questions in a simple and straightforward manner, especially if I was treating a wiggly kid at the same time.
That's why I created scripts.
I started by writing out the main points I wanted to get across when asked each of the questions above. For example, when someone asks me if acupuncture can help their child with __________________ I give them my honest opinion. 
If I think acupuncture can help I generally say, "Chances are good acupuncture can help with Johnny's chronic ear infections."
Here's how I look at it...
Not even the greatest surgeon can heal a cut. Only the body can. A surgeon cannot guarantee the surgery will work any more than we can guarantee that acupuncture will work.  But… chances are good it will work (and acupuncture is certainly less risky than surgery).  
Phrasing your answer like this is a great way to assure parents you can help without guaranteeing results. If I've treated the problem before, I will also mention other successes that I've had to reinforce how good the chances are it will help.
Role play and practice make all the difference.
Once you have all your written scripts, role play and practice saying them until you don't have to think about your answer. It'll just naturally roll off your tongue. Then, not even the biggest skeptic can catch you off guard and your confidence will inspire trust in your perspective and new patients.