Pediatric Gua Sha for Allergies, Coughs & Colds with Video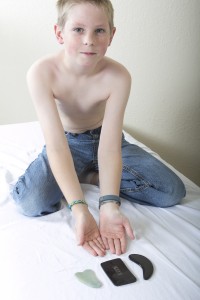 Pediatric Gua Sha or Scraping Massage is one of my
favorite
techniques to use on kids ages 4 and up.  
It's great for treating allergies, coughs, colds and fever
and most kids respond really quickly when I use it in addition to a regular treatment.
Focus on the Upper Back
To treat these conditions focus the gua sha on the Urinary Bladder Channel along the upper back.  In younger children, I use a homemade
Whipped Body Butter
from a recipe on HolisticSquid.com.   Kid's LOVE it because it smells like chocolate.  Almond or jojoba oil work really well, too. In older kids I often use Po Sum On Oil - just check to make sure they're ok with a little tingle on their skin.
Gua sha tools are available at most acupuncture suppliers.  The heart-shaped jade tool in the video is available at Lhasa OMS.  I gave these out last year as fun little holiday gifts and they went over really well.
Here are Some Quick Tips for Doing Gua Sha on kids:
Use a firm but gentle pressure
Check in to see how the pressure is
Watch body language - if they squirm the pressure is probably too hard
Change sides periodically so one side doesn't get sore
Aim for turning the skin pink
Kids won't necessary have any petechia (unlike adults)
Watch the Video Below for a Pediatric Gua Sha Demonstration
Pediatric Gua Sha or Scraping Massage
from
Robin Green
on
Vimeo
.


Gua sha can easily be taught to parents for home care when their child is sick or suffering from a cold or allergies.  If you'd like to share this technique with your patients and their parents Click Here to visit KidsLoveAcupuncture.com where I have an instructional blog post about doing gua aha at home.