Last week I returned from the Integrative Fertility Symposium (IFS) in Vancouver, BC where I was one of the speakers! It is so awesome that IFS is now
including a new pediatric tract and even more awesome that so many acupuncturists were interested!
David Miller, Efrem Korngold, and Stephen Cowan also presented on topics ranging from the Triple Burner to the 8 Extraordinary Vessels in Development. The tract was rounded out with a panel on vaccines. The recordings are available now available if you're interested in watching them! Oh and be sure to get on the waitlist for 2018! I highly recommend going to this event!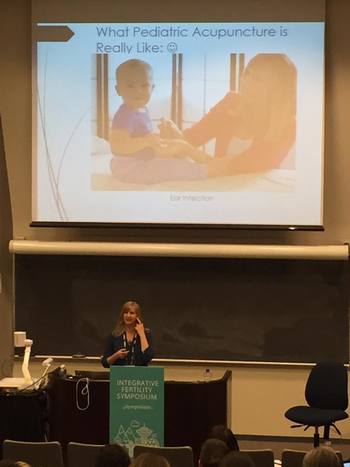 I've returned feeling super inspired again!
I met with hundreds of acupuncturists that already work with kids or are ready to get started! And after speaking with many of them, it got me really fired up to try out this idea for a virtual mentoring circle that I've been thinking about for a while now.
The first circle (yes there will be more if this goes well) will focus on energetics, communication, and intuition to make it easier to work with children and parents. This is the stuff we're not taught in school, but is essential in working with families!

When these 3 things are aligned it's like MAGIC!
Parents see you as their trusted guide, they follow your treatment plans, implement your advice and it FEELS EASY. And best of all, they refer their family and friends and help grow your practice!
What you'll learn are the same processes I share with all my new associates, but now, through this virtual mentoring circle, I'm making it available to all acupuncturists and healers!
You can check it out here: https://acupuncture.simplero.com/page/73744
By going virtual you can join from anywhere in the world! Plus, I can keep the price super affordable as well as cut out time and travel costs! The first meeting is in May, so we be sure to check it out soon!
Save
Save
Save